R.E.M. Posters & Other Stuff For Sale!

A distributer in Massachusetts is trying to unload its stock of old, out of print
R.E.M. Posters.

They also have some other stuff from various time periods available.

I know how hard it is to find some of this stuff these days, so I'm excited about
helping to spread the word.

Please keep in mind, its difficult to scan large posters, so these are scans of
photographs of the posters. Some glare from the flash is noticeable, and the
angle of the camera affects the shape of the photo. All posters are rectangular.

Please e-mail autumnsong@rcn.com to place an order.
Visit them on the web at: www.rockandrolletc.com
or give them a call at: 1 413 747 3901

---
Click on each photo for a larger version.

| | |
| --- | --- |
| | "Monster" Group - $15 |
| | "Out of Time" Era Group - $15 |
| | Group Photo Button - $2 |
| | Out of Time logo Button - $2 |
More posters and buttons not pictured are available too! (Not Pictured)
POSTERS: 3ft X 2ft All new


Green tour 20.00
Group from Green 20.00
Sepia toned group 1990 20.00
Radio Free Europe (gargoyle) B&W 25.00
Life's Rich Pageant cover (creased) 15.00
1993 group posed-photo by Anton Corbijn 20.00
1990 Film/Tour collage (is creased but still good) 12.00
Group by phonebooth 1987 20.00
Dead letter office cover 25.00


Total of 8 button styles available. $2.00 each

---
Patches
It's oval shaped, about 4" X 2" w/ bicycle & REM logo in blue & green.
Cost is 8.00 each.

---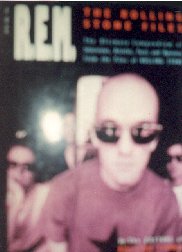 BOOK:
R.E.M. - THE Rolling Stone File: A collection of interviews,
articles, facts & opinions trace the group from small town
sensation to stardom. 196 pages. English import $22.00

BOOK:
R.E.M. - Behind The Mask by Jim Greer.
1992.Hardcover 12" X 10".145 pages packed
with rare photos, info and discographies. $22.00

PLEASE INCLUDE $4.00 FOR S&H IN THE U.S. ($10.00 for overseas)
---
C&L DISTRIBUTORS
PO BOX 454
EAST LONGMEADOW MASS. 01028

Phone: 1-413-525-1898


Please e-mail CNL20@javanet.com to place an order.

---
This home page is not associated with R.E.M. in any official manner Jason Zimberoff, rem@svs.com
---